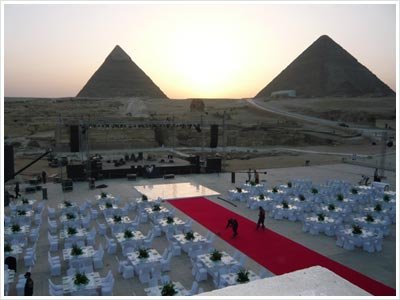 Diplomatic Travel Services is ready to make your imagination a reality. Whatever the event, whatever the program, we are ready to deliver in a creative, effective and professional manner.

With proven success in handling large Conferences, Incentives, International fairs & world famous cultural events, Egypt has become the ideal spot for rewarding the exceptional achievers and organizing conventions for reputable international organizations.

The Cairo International Conference Center (C.I.C.C.) with three conference halls, the main hall seating up to 2500 participants and the presence of all international hotel chains with different meeting rooms' capacities, all furnished with latest communication and audio-visual equipment are grounds for successful meetings and conventional venues.

D.T.S with years in the travel industry, blessed by its professional multilingual qualified staff, has acquired the international experience and the art of hospitality in handling incentive movements, conferences and conventions. Diplomatic Travel Services renders tailor made programs among which are: Theme parties; Champaign breakfast or Gala dinners at the magnificent historical sites; Dazzling desert nights; Horseback riding; Folkloric shows; Camel caravans; Nile felucca convoys & Special spouse programs.

D.T.S knowing the exact objective of any meeting, applies the finest arts of creativity and innovation, thus providing the keys to a spectacular achievement and ultimate success of any event.